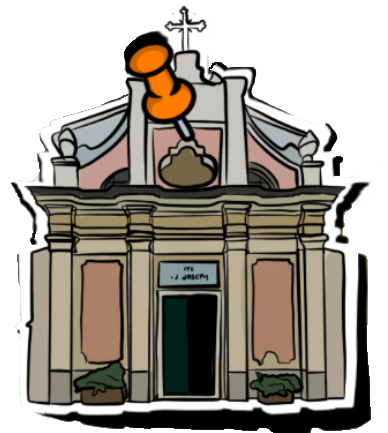 The church of Saint Joseph, located in the maritime village of Arma di Taggia, was created in the early years of the nineteenth century, born from the inhabitants' need to have their own parish. To this day, the building is considered as a symbol of the community of Arma and is linked to an important part of the town's religious tradition.

With the great changes that followed the period of restoration and reform in Europe after the Napoleonic Wars, there was a general atmosphere of economic and demographic growth stirring. A rich trade of local agricultural products and the expansion of maritime traffic meant that activities at the old dockyard were increasing.
It was thanks to these favourable conditions, that on 28th of September, 1817, work began on the building of Saint Joseph's church. The church is composed of a single room, and has elements of the late Baroque, even though the facade is in a neoclassic style. Internally, it is decorated with numerous statues of saints.

Among these statues, one of the most important is that of Saint Erasmus, known as the protector of sailors, who was the bishop of Antiochia and died in Formio in the year 303.
The Feast that has been celebrated every year on the last Sunday of July for over a hundred years goes by the same name and is dedicated to him. The celebration involves a procession of boats, and even the statue of Saint Erasmus is placed on a typical Ligurian fishing boat, locally called a "gussu". In the evening, the gulf is illuminated by the light of a thousand candles placed on the water by the fishing boats, preparing spectators for the incredible fireworks show that follows.