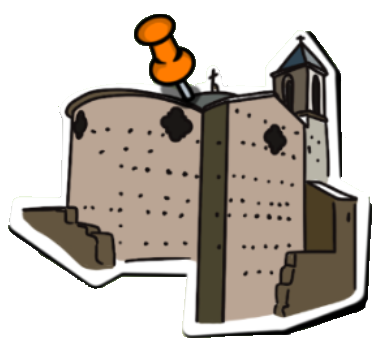 The other significant female convent in Taggia is the church of Santa Teresa: on San Dalmazzo street lies the ancient body of the building, which was most probably a private residence that was transformed into a monastic building. To reach the site, follow the alley that turns off San Dalmazzo street at the Barbarasa Gate, and goes up along the side of the convent. The structure's foundations are of particular note, and are an undeniable reference to its 14th century origins. This part of the building is linked to the 18th century church through a series of suspended passages. Finally, above you will see the "sleeve" of the new convent, all from the 18th century.

The fact that the site has a long history of residential occupation is of particular relevance, before becoming a convent during the course of the 16th and 17th centuries. Notably, the presence of Carmelite nuns in this area during the course of the 7th, 8th and second-to-last decade of the 17th century has been verified. It is a complex built upon previous constructions, before being physically integrated into the context of the neighbourhoods of San Dalmazzo, Barbarasa and the area of Littardi Gate.
The cornice decoration is particularly pleasing, enriched by ornamental bands of refined quality. Moreover, there are also some compartments with cross vaults and another vast opening with a barrel vault. The cross vaults date the building as being from the late medieval period, indicating that the structure was originally destined for housing.
After the Carmelite nuns' transfer, the convent had various purposes, before falling into a sad state of disrepair and decline. This continued up until 2011, when town management started the restoration and the development of the old Barbarasa part of the building, making it the centre of documentation and information about Taggiasca olive production.