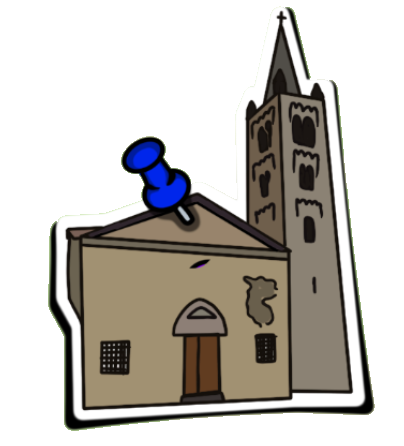 Retracing your steps along the ancient bridge, after a brief stretch along the Argentina riverbank towards the north, you can walk up Salita S. Cristoforo. At the end, you will arrive at the church of Madonna del Canneto, slightly on the left as you make your way up, after S. Dalmazzo street. The story behind this architectural and historical complex is revealed to us thanks to a series of documents, however they do not clarify certain obscure points regarding the building phase. What is visible today are the remains of a more articulated structure, that also used to include a church on a lower level, dedicated to Saint Anna. It is a Roman building dating back to the early middle-ages, located outside the walls in the northern part of the village, along the old road to Badalucco.

The position of the complex is very important as it stands at the edges of the old traffic route leading inland. It was probably erected in the 10th century and has undergone various restructuring over time. In the past it was a Benedictine priorate, with the Roman cuspidated bell tower from that period still visible today. It is a typical example of 12th century architecture with its three levels of mono- and double-arched windows, surrounded by four minor pinnacles. The 15th-century gate comes from the ruins of the neighbouring Church of Sant'Anna. The Benedictine brothers later abandoned the site due to Saracenic raids.

Lastly, the internal walls of the church preserve frescoes by Giovanni Cambiaso. The church was subject to incomplete excavations (1982), revealing the remains of a 12th century crypt and stonework belonging to an even more ancient temple. For a long time, the building has been in need of a significant number of interventions in order to secure it and preserve this important historical and cultural asset and open it to potential visitors. Unfortunately, uncertainty about which administrative or religious institutions are responsible for completing these works has made the various attempts at realising the necessary interventions unsuccessful.